You know Ender's Game (AKA like one of the literary loves of my life?!)? IT'S BECOMING A MOVIE!!! I don't know whether to freak out or become insanely terrified that it will be slaughtered!! But oh my goodness SO many big names in this film (including some of the legends of scifi cinematography)!!! HOLY COW!!! I LOVE THE CASTING!!!!
-
Valentine Wiggin
Abigail Breslin
(Ultimate Gift, Nim's Island, Signs, etc.)
-
Mazer Rackham
Ben Kingsley
(Hugo, Tuck Everlasting, Oliver Twist)
-
Petra Arkanian
( which is interesting, considering this isn't a huge part)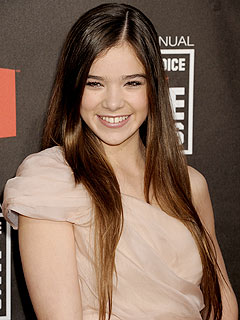 Hailee Steinfeld
(True Grit)
-
Colonel Hyram Graff
Harrison Ford
(needing no explanation)
-
AND FINALLY.....
Ender Wiggin
Asa Butterfield
(yeah field of butter)
(Hugo, Boy in the Striped Pajamas- this kid MADE those movies!! By far my favorite casting selection...probably the ONLY child actor that could capture Ender!
-
There's a lot of other casting via IMDB but they aren't always accurado so I just stuck with the varified casting (which is WONDERFUL)! Oh my goodness, 2013, here we come! If you haven't read,
please read before the movie comes out!! All time favorite scifi book!
♥t.